Kurt Busch out of Gatornationals
NHRA Gator Nationals
NHRA Gator Nationals
VIDEO PLAYLIST
GAINESVILLE, Fla. -- Former NASCAR champion
Kurt Busch
climbed out of his dragster with a huge smile on his face, then got mobbed by crewmembers.
[+] Enlarge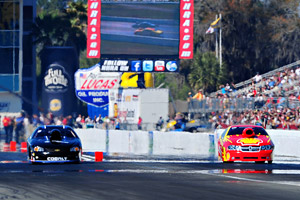 Mark J. Rebilas/US PresswireKurt Busch, right, lost to Erica Enders by half a car length in the NHRA Gatornationals' first round.
He might as well have been in Victory Lane.
Busch celebrated a narrow defeat in his professional drag-racing debut Sunday, far from the emotions he would have shown had his day ended so early in a NASCAR race.
But Busch was a rookie in his first pro event, facing a seasoned veteran and merely trying to have some fun during NASCAR's open weekend. So this loss was a big win -- for Busch, for the NHRA Gatornationals and for the often-overlooked Pro Stock division.
"This was a weekend that I'll never forget," Busch said.
Erica Enders edged Busch by half a car length on the quarter-mile drag strip. Enders, the No. 5 seed, covered the distance in 6.538 seconds. The 12th-seeded Busch crossed the finish line in 6.541 seconds.
Nonetheless, Busch had the fifth-fastest time in the opening round -- good enough to beat most of the field. It also turned out to be his best run ever, better than any of his 50 testing passes, better than his four qualifying efforts and better than anyone expected.
"We just came up short," Busch said. "It's three-hundredths of a second, and in this game of drag racing, that's enough to put you back on the trailer. I feel we can hang our heads high about this. It was a fantastic enjoyment all weekend."
Had the 2004 Sprint Cup champion been at a NASCAR event Sunday, he would have jumped on his private jet and been home in a few hours. Instead, he stuck around Gainesville Raceway to experience the event.
After a brief celebration with his team, Busch returned to the starting line and watched the rest of the competition. He cheered for Enders, the only woman in the 16-driver field, who lost in the second round. Busch spent countless time walking around the paddock area, shaking hands with fans and posing for pictures.
"It's a unique feeling," Busch said. "The atmosphere here is like a carnival atmosphere. I'm ready to grab a corndog and a cold beer and go watch ... finish the day off."
Busch made his NHRA debut last year in Gainesville. He entered his 1970 Dodge Challenger in the Sportsman division, but got only two passes over four days because of heavy rain. Despite his lack of experience, Busch decided to turn pro. He got backing from Dodge and his NASCAR sponsors, then rented a car from Pro Stock veteran Allen Johnson.
His pro debut got off to a slow start. Busch had two error-filled qualifying runs Friday, but rebounded with two solid passes Saturday and made the show.
His elimination race was one of the closest of the day, with Enders beating Busch off the line and then holding him off near the finish.
"People just don't get in these cars and do well," said Enders, who's been racing for seven years in Pro Stock. "What he did, I think that speaks volumes for how good a driver he really is. You see people work years and years and years and not be able to do this."
"

People just don't get in these cars and do well. What he did, I think that speaks volumes for how good a driver he really is. You see people work years and years and years and not be able to do this.


"

-- Erica Enders on Kurt Busch's NHRA pro debut
Busch's endeavor might just be getting started, too.
He will take the dragster back to his shop in Charlotte and will spend the next few months deciding whether to enter the NHRA event in Denver in July, the only other race than coincides with an off weekend for Sprint Cup. He said where he ranked in the Cup standings -- he's currently tied with
Tony Stewart
for the points lead -- would be the deciding factor.
"That's getting close to the cutoff point of when we really need to focus on our Cup points battle," Busch said. "I hope we're in the top five then and there might be that opportunity. If we're right there on the 10th, 11th spot of making our Chase, then that's not going to be the appropriate time to go do that event. Only time will tell."
It also remains to be seen what Busch's appearance will do for NHRA or the sport's third-tier series. Enders said it was a shame that the Pro Stock division typically got five minutes of attention during a two-hour telecast.
"It's just good for our sport and our fans," said 15-time Funny Car series champion John Force. "That little girl did her job and he did his. It's really cool to have the NASCAR kid here."
Busch was equally grateful for the opportunity.
"When you have this high of adrenaline, it's an amazing feeling," he said. "But it's almost like walking the plank each time you go. You're sitting there looking at the water down below, going, 'Am I going to be able to get back on the boat or am I going to have to jump?'
"Getting eliminated first round is tough, but at the same time, the way that we evolved, the way that we advanced through this weekend, to feel more comfortable as a crew, as a driver, it was a fantastic, gratifying experience."
Copyright 2011 by The Associated Press